Sian Watson wins Capital Arts Patrons' Organisation Award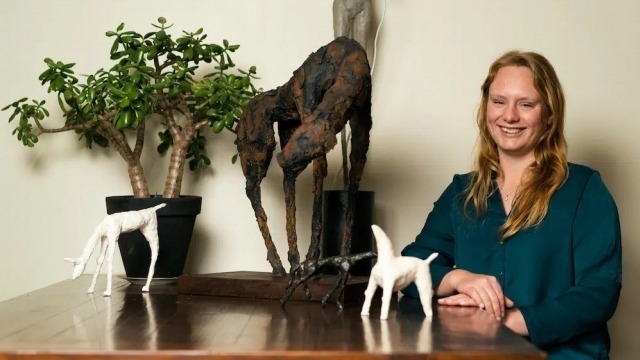 Thursday 23 December 2021
When the ACT plunged into lockdown in August, Canberra sculptor Sian Watson had to quickly improvise and adapt her practice.
Locked out of her studio, a large, converted shed on her parents' property in Wallaroo, Watson had to ingeniously repurpose her single-car garage at her Cook flat into a miniature working space.
It was quite a change of pace from her typical workspace where noise isn't a problem and required a combination of problem solving and changes to her making.
"At Wallaroo I can make as much noise as I want, so I've got a lot of angle grinders and welding and steel work that I do there," she said.
"Here there's not too much mess I can make, and noise wise we're surrounded by close neighbours, so my normal making style wasn't appropriate."
This led her to use what she could to make a mould.
At the end of November, Watson took home the Rosalie Gascoigne Memorial Award at CAPO's 38th Annual Grants Round.
The funding received with the award will go toward casting in bronze a series of wax sculptures made during the lockdown.
"The fact that I now have funding is just a huge relief. Potentially some of the works wouldn't have been cast."
Having grown up admiring the work of Gascoigne, Watson said it was a "great honour" to receive an award named after the artist.
Working a part-time job at Access Canberra, Watson has been practicing for the six years now since leaving university.
She said going to arts school in Canberra was "fantastic" due to the number of connections she made from it.
"That was really the jumping board for what I'm doing at the moment and where I've been able to get to," she said.
"Canberra has a really supportive arts community … there's lots of opportunity, so putting your hand up all the time for all sorts of things is a good thing."
Text courtesy Denholm Samaras, Canberra Weekly. For full story click this link.