The Agency of the Animal in Filmmaking: Robert Nugent
Date & time
Thu 27 Feb 2020, 5–6.30pm
Location
Sir Roland Wilson Building, Theatrette (Rm 2.02)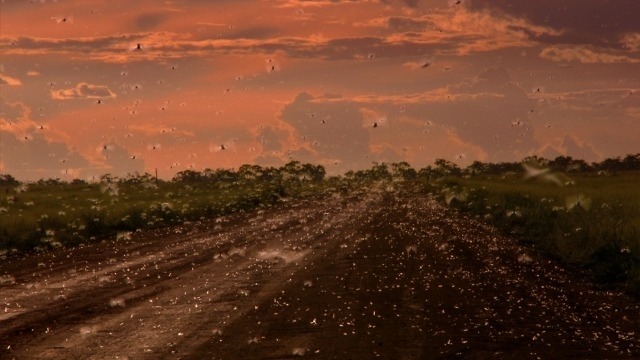 The Agency of the Animal in Filmmaking: Robert Nugent
This event is being held in conjunction with the More than Human: the Animal in the Age of the Anthropocene exhibition currently showing at the School of Art and Design Main Gallery.
Filmmaker, Robert Nugent, will show segments of his feature documentaries including, Memoirs Of A Plague (2010) and discuss the current issues surrounding locusts with Dr Ted Deveson from the Australian Plague Locust Commission. After viewing some of the film, they will debate whether the human response to locusts says more about us than them.
The film follows the director's journey as he examines the complexity of the dramatic encounter between human and locust. Do we live outside or inside nature, and who is hunting who?
"The war against locusts is as old as human civilisation. It is one of the universal stories we tell of our creation, lying deep within us. But where does the individual fit into this drama? What role does fate play and what role science?"
In East Africa the largest outbreak of desert locusts in seventy years is causing havoc for communities. After drought and a summer of heat, fire and then dust, hail and flooding, people may ask, what's next? - A locust plague? Well there is indeed a locust plague emerging in Australia. The response to locusts is always the same. Broad-spectrum insecticides applied willy-nilly, mass hysteria in the media and agricultural politics.
Trailer for Memoirs of a Plague
Location: Sir Roland Wilson Building, Theatrette (Rm 2.02)
Time: 5pm-6:30pm, Thursday 27 Feb 2020
Free | All Welcome | Please RSVP here