Sharing Stories Arts Exchange - Public Information Session
Date & time
Mon 13 Feb 2023, 6–7.30pm
Location
ANU School of Art & Design, Building 105, Lecture Theatre Room 1.42 (Upstairs) Acton, ACT 2601
Speakers
Dr Amanda Stuart, Amelia Zaraftis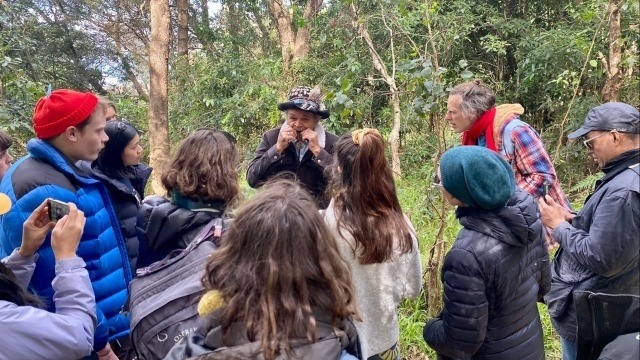 Program facilitators Dr Amanda Stuart and Amelia Zaraftis will outline the 2023 Sharing Stories Arts Exchange program and itinerary, explain the expression of interest process, and share images and information about past programs. 
"This was such a valuable opportunity for me as a creative to develop my knowledge of First Nations culture, and how it can influence my practice." 2022 Program Participant.

 
DATES
The 2023 program will be held over 12 sessions from March until October and will include two interstate field trips; 14 – 17 June & 13 – 16 September, day trips within the ACT, talks & presentations, and an exhibition presenting participant research and/or visual outcomes.
ABOUT
The Sharing Stories Arts Exchange (SSAE) is a creative participatory project focused on building positive reciprocal relationships between the Canberra community and local regional Indigenous and non-indigenous communities.
The program features culturally rich learning opportunities and events in the ACT as well as a structured creative field program visiting areas in south-eastern NSW. Areas visited include Yuin Country around Twofold Bay Eden, Davidson Whaling Station, Beowa National Park and Edrom Lodge.
The aim of the program is to build on existing shared values; learning from local Indigenous people and increasing awareness and understanding of the complexities of culture and reconciliation through creative outcomes.
"Sharing Stories was creatively and personally enriching and rewarding. I would recommend it to any artist or creative who wants to engage more deeply with Aboriginal culture, history and our environment, with thoughtful, connected and supportive guides and facilitators."  2022 Program Participant.
REQUIREMENTS
Participation in the program is welcome from all ACT-based artists and/or creatives
Payment for the field trips will be required at the beginning of the program, further details and payment options will be provided at the information session
Current ANU School of Art & Design students are not eligible for this program

The Sharing Stories Arts Exchange is supported by artsACT and made possible by the contributions of numerous First Nations contributors. 
Photo: Amelia Zaraftis