In Conversation: Abbey Perticato & Florie Lafon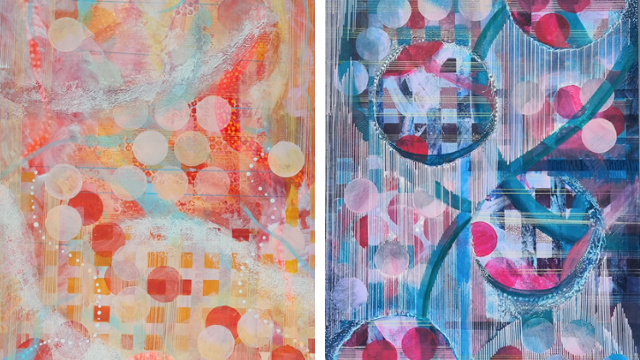 Thursday 16 December 2021
The 2021 Grad Show Student Committee, with support of the Gallery team have developed public programming to coincide with the launch of the Graduating Exhibition. The Committee has created an engaging, accessible program offering insight, research, and discussion pertaining to their graduate work, practice and experience.
Read as Abbey Perticato interviews Florie Lafon on her graduating series, 'Bleaching Has Occurred'. Florie's emerging practice centres around the issues related to the environment, where she comments on the global crisis in relation to coral bleaching and climate change.
Abbey Perticato is completing her Bachelor in Art History & Curatorship, Florie Lafon is completing her Bachelor of Visual Arts.
A Spotlight on the Environment: Florie Lafon
Florie Lafon is a graduating visual art student, currently participating in the School of Art and Design's Graduating Exhibition of 2021. Her emerging practice centres around the issues related to the environment, where she comments on the global crisis in relation to coral bleaching in her series of paintings, "Bleaching Has Occurred". Her graduating profile can be viewed at gradshow.com.au
Hey Florie! Can you describe the reasoning behind your graduating body of work?
Hey Abbey! My graduating work is influenced by my personal experience on snorkelling and being confused on what I saw underwater with the changes of colour of corals.  In the past years, I would enter the ocean and it was like an aquarium with beautiful vibrant corals and I will stay for longs period. I was blown away! Now, when I go back in the ocean, the reef colour has faded, the water isn't as clear and there are many dead corals. I always felt my last body of work will be something related to the ocean, but I did not know what. And now that I made this discovery, it is the perfect time to send awareness on an issue that is so important.
The other reason I felt the need to go deeper into the research was like an escape from the continuation of discussion and fear of what Covid is doing to our world. We hear covid news daily and personally it seemed like the only topic I heard in lockdown/ quarantine. It was when I stopped watching the news because it was too repetitive and nothing positive came out from that. Even researching on the topic: Coral Bleaching, it isn't joy and rainbow. But it was a good distraction for me to concentrate on ways I could paint it and what I wanted to say.
You said previously that Jeff Orlowinski's film Chasing Corals (2017) is an inspiration to your work. Is there a particular scene or quote from the documentary that propelled you to focus on the issue of coral bleaching?
Not exactly, the documentary was the first that I saw on this subject. I remember thinking to myself: "oh this is what I have been seeing" and from that discovery, I felt an urgency in documenting it on my own as I didn't know much on the subject. It never recorded it until I started seeing the changes in multiple different locations from different countries and then watching it during the lockdown, it just made sense. And that is how the first discovery from my memories became a series of 4 paintings.
There seems to be a close observation of the underwater environment in this line of investigation, almost at a microscopic level, and can be contrasted in the use of alternating colour and rhythm... How important is the use of layering and building up undulating forms of colours through arranging these complex compositions?
Yes! So, in the process of my work, I combined opposing processes to explore if they work together harmoniously in a composition. The main compositional elements I considered were geometry and gesture, texture and gesture, transparency and layering, fast and slow and systematic vs evolving. Those were experimented before starting the series where I felt they worked together quite nicely. From that, I have been using a mixture of planned and unplanned processes to help with the rhythm from switching geometry to gestural elements.
A lot of moments in the paintings were chosen on feeling and instinct that it was okay or needing to add more layers. The process of layering felt like moments in time. Some marks were quick, and some were slow. Some were intuitive and some were planned.  Some were layered and erased. Some parts were textured, and some were smooths. Some layers became a fundamental part for addressing quick fixes and being ignorant on activities destroying our ecosystem.  But once the layers are finished, the painting symbolises hope that the coral reef will be back.
Is there a particular medium or technique that you use that inspires you to extensively layer your works?
Yes! The main artist that inspired me in my layering atmospheric composition is the artist, Nina Tichava. I love her use of geometry and organic shapes layered with tape between the relationship of transparency and matt colours.  I have used similar process such as: tape, ultra matt medium for the translucent layers and to create texture.  Some examples of her work, and my own response to her works are attached.
And lastly, as an emerging and graduating artist, how do you see issues surrounding the environment and climate change influencing your work into the future?
I am a strong believer of protecting our ecosystem and I think we should talk about the importance of it more often rather than daily covid coverage. Even if the world is going miserably with the lockdowns: not being able to travel and seeing family/ friends. I believe there is a lot of good we can do by advocating the change in a period of loneliness. In terms of my future, I am interested in a lot of topics, and I think showing awareness through art like other fellow artists is a great start for change.
Thank you for letting me know about your practice, Florie! It has been a pleasure.
Thank you, Abbey!